Australian Hypnotherapy College – HCA Member Educational Institution
The Australian Hypnotherapy College (AHC) is regarded as one of the finest elite Hypnotherapy colleges, training professional Clinical Hypnotherapists and Psychotherapists in Australia.
Who is the Australian Hypnotherapy College?
The Australian Hypnotherapy College (AHC) is Internationally recognised and accredited by the International Association of Counselling Hypnotherapists and is dedicated in providing elite training both on-line and face-to-face for all students to thrive in their pursuit of professional success. The AHC is considered a leader in quality education and training in the natural therapies industry.
Why is the AHC Training more advanced?
The AHC training is more extensive than many colleges. Not only do they cover all areas of Hypnotherapy and Counselling Psychotherapy training (needed to become professionally successful), they also provide a separate training certification in EFT and NLP.
The AHC ensures students are business ready and include a module on Creating a Thriving Practice. This module enables all students to complete their training with a highly functional SEO friendly website and social media marketing in place, so clients can easily find and contact you.
How is the AHC different?
Students learn in a relaxed, friendly environment. All students have provided a 5 Star rating with comments including "not only is the AHC the gold standard of training, it is the Olympic Gold standard. I have done considerable training throughout my long career and the AHC has excelled at every level, they are always there to help you" – Helen, Therapist, Sydney.
The specific methods taught at the AHC are not learned anywhere else. Specialised training in the rapid anxiety reduction method (RARM) is exclusive to the AHC and a highly effective and fast method to reduce the trauma and anxieties of clients. The 'Phillip' method is also taught enabling clients to determine when and where their issues started (often earlier than we think) so they can be changed or eliminated quickly.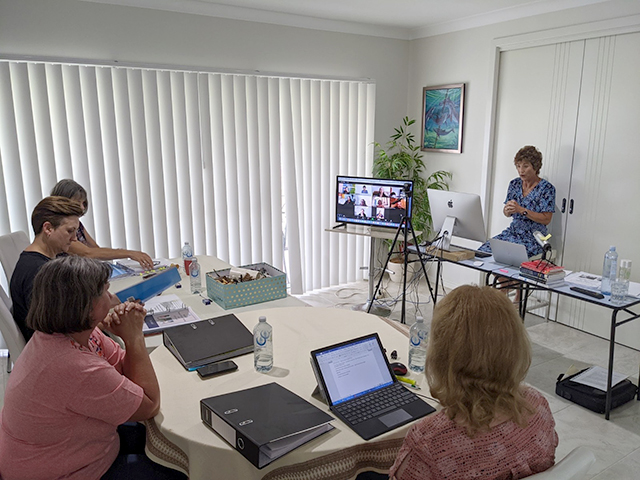 They also teach students future life progression (FLP) an exciting new method embraced by students and used for clients wanting to
move forward and gain clarity in their life. Up to date research methodology is discussed helping students to learn the latest methods instead of relying on past training manuals used over years.
The AHC uses up to date information every single year and past students remain with access to the Teachable online platform for new developmental methods.
Students have access to the AHC private Facebook student page where all students interact, ask questions and arrange practice sessions with each other, avoiding the family running away from you when you need to practice your new techniques to refine your skills.
The AHC joins all students and pays their membership into a leading Australian Hypnotherapy Association for their first year. Students are also provided with free supervision for the next 12 months after graduation, so you are never alone.
Support for students is essential both while learning and commencing your practice and professional work. The AHC remain supporting and guiding you with Karen only a phone call or email away.
The Trainers
Karen Phillip, principal trainer, is one of Australia's leading Counselling Hypnotherapists, highly sought after by clients, as well as
regularly appearing on television and radio, and commenting for many journalists.
Karen has an advanced Diploma of Hypnotherapy, multiple master's degrees, including Counselling, and finalising her PhD on Hypnotherapy techniques. Karen is an international author and supervisor, guiding and supporting supervisees and students throughout their journey.
All AHC educators hold an advanced degree in their field. Wayne Phillip, her husband, and business partner, is a teacher and clinical hypnotherapist and he also, along with others, train specific areas of the course.
They are only a phone call or email away, always happy to answer questions. Please go the website to read about their highly qualified trainers.
Creating your thriving practice
Graduating with your Diploma is exciting, but then what? How do you start, what do you do, where can you get clients? This is a common issue and failure of other colleges, their students a left alone to struggle. The AHC not only trains you to get your SEO friendly website up and running with great marketing, but they also remain with you.
The training team have been in the therapeutic business for over 2 decades. They have seen too many students graduating from other colleges inadequately prepared to start their therapeutic business. The Australian Hypnotherapy College provide students with the knowledge and business skills to empower them to run a successful, professional therapeutic practice.
Theoretical knowledge is important, but to run a thriving practice one also needs practical skills to enable them to become personally, professionally, and financially successful.
Too many therapists get the phone call from an interested client wanting and needing your masterful therapeutic treatment, yet you may fail to covert that call into a paid appointment. The AHC cover this as well with specialised training to convert your enquiries into paid appointments.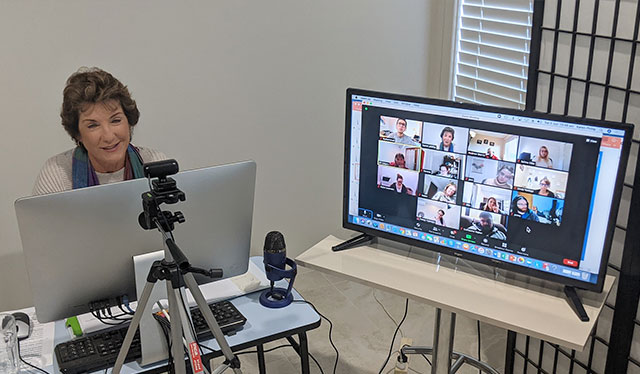 The Aim of the AHC
The aim of the AHC is to train students to be the best, most professional, highly qualified therapists to help those in need, using proven methods while earning a very good income working only those hours you need.
With graduates earning above average fees, perhaps you only need to work 20-30 hours a week and spend time enjoying life with family, friends and experiencing the activities you never had time for. A lifestyle change is ready for you now.
The AHC train students to visualise themself as a professional therapist. The AHC remove the overwhelm so many students feel from attending courses by working closely with each student every step of the way. The aim is to ensure every student becomes the very best they can be.
Get in touch and transform your life today
Please jump onto the Australian Hypnotherapy College website. Read the information, download the prospectus and read the astounding positive reviews from graduated students. Fees are reasonable and can be paid off throughout the course.
Take the step and enrol today to obtain exclusive training to start your successful professional life as a Clinical Hypnotherapist and Psychotherapist today.  Please visit https://australianhypnotherapycollege.com.au  
The Australian Hypnotherapy College is a HCA Educational Member Institution listed on the Australian National Hypnotherapists Register and the Hypnotherapy Council of Australia website.