Yael Tsvieli Reiss Clinical Hypnotherapist Brighton QLD
Yael Tsvieli Reiss is a clinical hypnotherapist practicing in Brighton QLD and Sandgate, QLD 4107
Contact Yael Tsvieli Reiss Clinical Hypnotherapist, Brighton QLD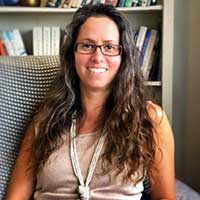 Yael Reiss – Hypnotherapy & NLP, Systemic Family Constellations
362 Flinders Parade
Brighton, QLD 4107
Ph: 0431 837 878
Email Yael
Website: yaelreiss.com
Association Memberships
Australian Hypnotherapists Association
Qualifications
Masters degree in Social Work
Diploma of Clinical Hypnotherapy
NLP Trainer and Master Practitioner
Systemic Family Constellations Facilitator
Specialties / Areas of Interest
Anxiety and trauma, which underlie most of the problems from which people suffer
Weight loss.
About Yael Tsvieli Reiss' Practice
Yael is a therapist with 20 years of professional experience. She is a Hypnotherapist, NLP therapist, Family Constellations Facilitator , public speaker, clinical supervisor and trainer.
Yael has a Masters degree in Social Work, a Diploma of Clinical Hypnotherapy and is a certified NLP trainer.
She is experienced in working with adults, teenagers, children, couples, families and groups.
In her work Yael Combines Hypnotherapy, NLP (Neuro Linguistic Programming) and Systemic Family Constellations :
Hypnotherapy assists in creating a shift in a person's life by accessing the unconscious mind and the body, calming down the nervous system, and helping a person take on the new behaviours and ways of thinking naturally and easily. Hypnotherapy enables people to access painful experiences in their life in a healing way. Hypnotherapy assists in refocusing us on that which brings us to be resourceful calm and happy.
NLP (Neuro Linguistic Programming) models success, looks at how things work well for some people, and assists us in finding the direction towards resources, change and solution. In treating anxiety we model calm people, in treating depression we model happy people, when working towards weight loss we model naturally slim people as well as people that lost weight successfully, and in couples therapy we model couples in successful relationship.
NLP is a way of changing someone's thoughts and behaviours to help achieve desired outcomes for them. NLP gives us techniques that access our neurological pathways accurately to create new behaviours and responses, changing automatic 'buttons' and habits.
Systemic Family Constellations is an effective short term therapy that has the potential to arrive at the roots of problems in a short time. It is a therapeutic process that allows individuals to heal from personal challenges that originate in their past, in their family, and in their family's history. With Family Constellation we can address the parts of the problem which are related to our relationship with others and to where we come from. Looking at your issue through Family Constellations is a very powerful experience. It can be done in one on one sessions, and is most powerful in a group workshop.
Short term, change oriented therapy:
The approaches Yael works with are oriented to assist making a shift in a person's/coupe's/family's/child's life, and in healing from problem symptoms.
Some people will only need a session or two in order to make the shift happen in their life. While most people will make the shift during 3-6 session. Many people find that they enjoy and benefit from coming to sessions and continue sessions about once a month for a while until they feel well established in their new ways of being.
Yael is experienced in helping people with different problems and symptoms, including:
Anxiety:
Panic attacks
Phobias
Test anxiety
Public speaking anxiety
Social anxiety
Nail biting
Hypochondria
Stress
Trauma
Post traumatic stress
Child therapy:
Soiling (Encopresis)
Toilet training
Bedwetting
Bullying
Phobias
Anxiety
Shyness
Problems at school
Parental guidance
Weight problems
Hypnotherapy for children
Emotional issues:
Depression
Grief
Dealing with childhood issues and traumas
Negative thinking
Forgiveness
Anger and resentment
Medical hypnotherapy:
Sleeping problems (Insomnia)
Allergies (Extremely successful)
Skin problems
Pain management
Blood pressure
Hypochondria
Childbirth
Health problems
Relationship:
Abusive relationship
Finding a partner
Couple relationship
Bullying (including workplace bullying)
Parenting
Changing unwanted habits:
Drinking problems / Excessive drinking
Eating habits / Weight loss / Weight Management
Nail biting
Trichotillomania (obsessive hair pulling)
Enhancing performance:
Writers block
Sports performance
Confidence
Test anxiety
Public speaking
Business achievements
Self fulfillment and career
And more…
As a public speaker and Trainer:
Yael conducted workshops for professional hypnotherapists around Australia. In Israel, her country of origin, Yael led one of the top NLP training centers in the country. She is reputed as a trainer who is extremely professional and structured, as well as fun and engaging. Her trainings are also well known for their high safety standards. In her training, Yael draws from her wide experience gained in her busy private practice and from her therapeutic work as a social worker. Having a lively energetic training style, she keeps her audience engaged and brings stories anecdotes, as well as examples from her most interesting cases.
Yael has certified many professionals in the field of NLP, Practitioner and Master Practitioner levels, as well as conduct Ericksonian approach workshops. Among her graduates and clients there are psychologists, social workers, nurses and doctors, as well as experienced practitioners of NLP and hypnotherapy.