Matthew Vance Clinical Hypnotherapist Flaxton QLD
Matthew Vance is a clinical hypnotherapist practicing at Hinterland Hypnotherapy in Flaxton and Maroochydore, QLD 4560
Contact Matthew Vance Clinical Hypnotherapist Flaxton QLD
Hinterland Hypnotherapy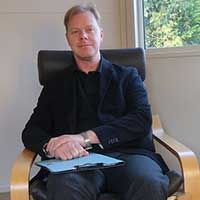 Flaxton Mill Road
Flaxton, QLD 4560
Ph: 0415 463 976
Email Matthew
Website: hinterlandhypnotherapy.com.au
Association Memberships
Guild of Australian Hypnotherapists (GoAH)
Qualifications
BSc (Hons) Psychology
Masters Organisational Psychology
Diploma Clinical Hypnotherapy
Diploma NLP
Registered Psychologist
Specialties / Areas of Interest
Gambling Addiction
Alcohol Addiction
Pain Management
Anxiety
About Matthew Vance's Practice
Clinical Hypnotherapist Flaxton QLD
Matt Vance has been a practicing registered psychologist for almost 20 years.
Hinterland Hypnotherapy is across two practices in Flaxton (near Montville) in the Sunshine Coast Hinterland and at Maroochydore. He also consults at an addiction retreat on the coast.
Clients' needs do vary, however generally there is a level of anxiety and stress management that must to be considered and techniques to manage this in day to day situations are taught.
Letting go of the past or processing old fears, phobias, traumas will be undertaken as appropriate.
Alcohol and Gambling Addiction are areas that clients travel long distances to break these habits with Matt. Hypnosis is a powerful tool to remove old bad habits and reinforce new positive habits.
Both with clinical and organisational clients future planning skills are vitally important in maintaining positive motivations and building/embedding new habits. These are incorporated in all sessions.
Pain management is an area that is also a speciality of Hinterland Hypnotherapy. Managing pain through hypnosis, mindfulness and movement exercises has played a big part in maintaining relief from Matt's own historic chronic pain concerns.
Matt is also an Accredited Quantum Consciousness Experience Facilitator and these longer sessions can be an area for clients to connect with a deeper purpose.
Matt is a clinical member of the Guild of Australian Hypnotherapists (GoAH), a member of the Australian Psychological Society (APS), and is registered with the Australian Health Practitioner Registration Agency (AHPRA).
A GP referral is not required to make a booking, but can be beneficial if sessions are appropriate for Medicare rebates under a Mental Health Care Plan. Private Health Fund rebates can also be claimed where covered under extras.