Natalie Ann Bradtke Clinical Hypnotherapist Kalbeeba
Natalie Ann Bradtke is a clinical hypnotherapist practicing at Mind Perception in Kalbeeba, SA
Contact Natalie Ann Bradtke Clinical Hypnotherapist Kalbeeba
Mind Perception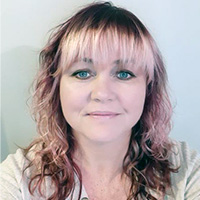 Lucks Road
Kalbeeba, SA 5118
Ph: 0418 193 355
Email Natalie Ann
Website: mindperception.com.au
Association Memberships
International Strategic Psychotherapists Association (ISPA)
Qualifications
CHCCSL001 Establish and confirm the counselling relationship
CHCLEG001 Work legally and ethically
DCHHYP501 Work within a clinical hypnosis framework
DCHHYP502 Prepare for clinical hypnosis session
DCHHYP503 Provide clinical hypnosis session
DCHHYP504 Monitor and evaluate clinical hypnosis interventions
DCHSPT505 Develop clinical hypnosis and strategic psychotherapy practice
Specialties / Areas of Interest
Fears
Chronic Pain
Intrusive Thoughts
OCD
Mood Disorders
Insomnia
Procrastination
Relationship Issues
Stress
Anger
Anxiety
Feeling Self-Conscious
Phobia's
Addiction
Self-Criticism
PTSD
About Natalie Ann Bradtke's Practice
Clinical Hypnotherapist Kalbeeba
Who is Natalie?
Natalie has worked in trauma informed practice for over 20 years. She has supported many adults and children to overcome mental health challenges and realign to a healthy way of being.
Natalie has studied Clinical Hypnotherapy, NLP, Disability Support, Palliative Care, Dementia Training, Training and Assessment and Business Studies. She holds all the relevant National Clearances and holds Safe Environments for Children and Young People.
Natalie is a Founding Member and Accredited Member of the International Strategic Psychotherapists Association (ISPA) and the International Institute for Complementary Therapists (IICT).
Understanding Hypnotherapy
Clinical Hypnotherapy is solution focused therapy that utilizes an indirect, permissive approach to modern day issues that many people experience. Hypnosis allows the therapist to bypass the critical conscious mind and venture into the unconscious mind to embed new suggestions for healthier habits, renewed vitality, increased performance and positive change. Any person that is experiencing any degree of emotional or physical suffering can benefit from Clinical Hypnotherapy.
If you feel you have tried everything before with little to no results, it may be time to experience the deep, long term change that Hypnotherapy can achieve.
A word from Natalie…
Hi, I'm Natalie. I am a Clinical Hypnotherapist, NLP practitioner and Counsellor.
My passion is to support people to overcome adversity in their lives and have the opportunity to live the best life possible.
I believe people grow and change all the time, but I know some people get stuck in old patterns. That's where I can help! If you find yourself wondering why you keep doing the same thing over and over, but would like to change that, contact me now for a consultation and start making changes TODAY!!!