Jevon Clark Clinical Hypnotherapist Springfield
Jevon Clark is a clinical hypnotherapist practicing at Springfield Hypnotherapy in Springfield and Bellbird Park, QLD
Contact Jevon Clark Clinical Hypnotherapist
Springfield Hypnotherapy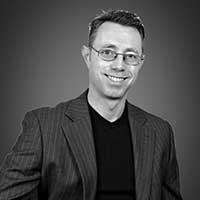 2 Jeff Collins Cct
Bellbird Park, QLD 4300
Ph: 0466 274 836
Email Jevon
Website: springfieldhypnotherapy.com.au
Also practicing at
Brisbane Hypnosis Clinic – New Farm Hypnotherapy
884, Brunswick Street
New Farm QLD 4005
Association Memberships
Guild of Australian Hypnotherapists (GoAH)
Qualifications
Cert. IV Clin. Hyp.
Cert. Adv. Clin. Hyp.
Dip. Hyp. and Couns.
Health Fund Provider
Specialties / Areas of Interest
Quit Smoking
Anxiety
Depression
Relationship Issues
Self-Esteem
Fears and Phobias
Confidence
About Jevon Clark's Practice
About Jevon Clark, Clinical Hypnotherapist Springfield
Springfield Therapy Services
Winning Relationships
Jevon Clark has been a practicing Therapist and Clinical Hypnotherapist for almost a decade.
Based in Springfield, on the Brisbane edge of Ipswich, Jevon helps people deal with issues such as anxiety, trauma, depression, and fears, as well as smoking cessation and weight loss.
Jevon also specialises in relationship therapy, working with couples and individuals to help them connect, communicate better and resolve their relationship issues.
He runs regular workshops and has published 2 books, as well as audio programs on creating strong relationships, building self-esteem and achieving your goals.
Whether the issues you may be struggling with have to do with trouble in your relationship, or emotional issues from your past or present, the overall goal is always the same – to help you to be the person you want to be, to be happy, and live the life that you want to live.
Jevon Clark, Clinical Hypnotherapist Springfield, QLD 4300 is an Accredited HCA Hypnotherapist listed on the Australian National Hypnotherapists Register